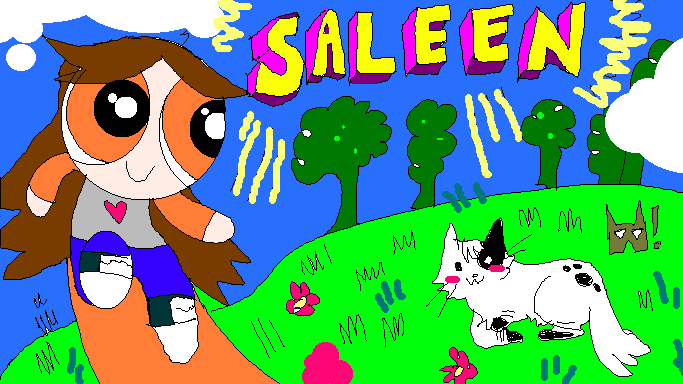 -->name: SALEEN! im named after a car :D
-->gender: gurl
-->age: 7-10 yrs old
-->location: in my housse durr (9_9)
-->favorite tv show: PPG!!!!!no. maybe pokemon? GRR IDK >_>
-->fovorite book series:ummmmmm a tie between gardians of gahoole or warrior cats! :3
-->favorit3 game: POKEMON BLUE!!!! team squirtle foreva ^_^)/



HewWo wurld. today i went to school. i hate!! waking up so early. (>_>) i thiink shool shuld start at 12 pm
buuut today was pizza day for lunCh so that kinda mad up fir evenr havin to go in the frst place :)
OH And today mE n darlene got to draw more of our comic book lol. shes so guud at writting!!!!
Weve been makin it for the past few days and i th1nk its actully some of mai best drawins! xD
I want to draw 4ever!!! im really leiking drawing on the compurter too. i just wish kidpix
was on my grandma's computer to and nawt just at mai dad;s -___-;;;
I get to go over this weakend tho1!!! yiPPEEE!!! when i go over there i want tew draw my
OC (orignal character) that i made up for warrior catS!:3 i drew her for dis page but i wanna make
a real legit reference! maybe itll look better if i try usin a base :? ????
idk how to errrm put it into kid pix or mspaint.. how do ppl do that? O_o.... wwwaAIT
OH EM GEEEEE DINNER IS DONE I HAVE TO GOOOOOOOO THANK U FOr READIGGG!!
sinserly, SALEEEEN ^w^
vvv CUTE BUNNY!!! vvv
(\__/)
(='.'=)
(")_(")
~`⛦~*✽LINK TO MAI FRIENDS WEBPAGE :3!!!*✽~`~⛦